Ipswich churchyard campers move from site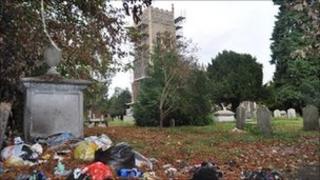 A group of homeless people who had been camping at an Ipswich church for about six years have left the graveyard after an eviction notice was served.
The notice was served on the "canvas village" at St Margaret's Church, next to Christchurch Mansion, at the end of September.
Congregation member Maureen Reynel said the campers had become a "hardcore group" who showed "no respect".
Last week, it was estimated there were 17 people living there in 13 tents.
Evidence was found on the church grounds of alcohol and needles.
The campers left the site on Monday, leaving litter including tent poles and pegs.
Previously, campaigners fighting for a homeless shelter in Ipswich said it could help prevent people from having to sleep rough there.
'Feel sad'
Ms Reynel, who is also a director of the Families In Need (Find) charity, said: "Previously these were a group of people who were in desperate need of help and I could sit down with them and they would engage and many of them have had help from Find.
"They [the current group] were very 'closed shop', so there was no way to see if there were one or two of them that you could take along the right route to finding somewhere stable to live.
"I feel pretty sad, because there are people who really do need help."