Ipswich Town Football Club's last chance to pay rent owed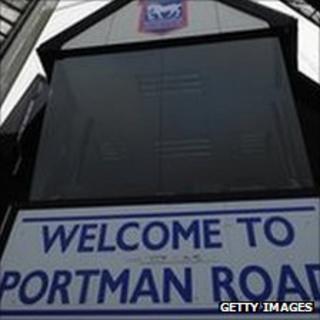 Ipswich Town Football Club (ITFC) has been given a last chance to start paying off more than £650,000 in back rent and interest that it owes.
The club's landlord, Ipswich Borough Council's executive committee, agreed to give ITFC one final chance to pay.
Seven years ago, a review of rent saw it rise from £15,000 a year to £111,500 a year - a 743% increase.
If the club does not pay, the council could go the High Court to seek a winding-up order against it.
At a meeting on Tuesday night, the council gave the club until the end of the season to start paying off its rent arrears, but it must start paying back by June next year.
Labour leader of the council David Ellesmere said the club had agreed to pay back the full sum owed if it won promotion to the premiership, or to pay the money back over four years in quarterly instalments of about £40,000 from June if it failed to get promotion.
"We hope the club can now concentrate on getting promotion," he said.
A council rent review which goes back to 2004 was not completed until 2010 at which point the club started paying the new rent.
But the letting agreement made clear that any rent review would be backdated to 2004 - which is why the club owes the council about £650,000.