Lowestoft's £6.25m for transport but no third road bridge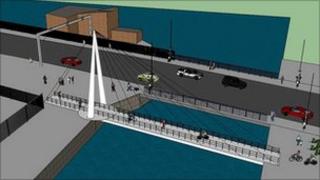 Lowestoft businesses are welcoming a new £6.25m transport package, but say a third water crossing is still needed.
Public money is to be spent on a new cycle/footbridge across Lake Lothing and an orbital bus service around the edge of the town.
Paul Briddon, president of Lowestoft and Waveney Chamber of Commerce, said: "It would be churlish to say it's anything but a good thing.
"But the main requirement is for a motorised third crossing."
The project also includes improved bus stops at the railway station and a programme to promote cycling to school and work.
The cycle/footbridge will be built next to the existing Bascule Bridge.
A12 issue
Mr Briddon said: "It doesn't really address the congestion and the cost to business of queuing to go across the two points at Oulton Broad and Lowestoft.
"If we're looking to develop into an area of excellence for the offshore wind energy industry, then the A12 issue has got to be addressed."
Norman Baker MP, Under Secretary of State for Transport, who visited Lowestoft, said: "Drivers aren't being ignored.
"If we provide a new, attractive crossing for those on foot and bicycle, evidence elsewhere suggests some people will move out of their cars and then you ease congestion on the existing road network.
"The government, despite the economic circumstances, has embarked on one of the biggest transport investment programmes in history and we've started work on the A11.
"Considering the economic circumstances we're in, we're doing a pretty good job."
The county council, which is contributing £1.25m to the new scheme, estimates a third bridge would cost £30m to £40m.
Peter Aldous, Conservative MP for Waveney, said: "The third crossing is important but one has got to be realistic.
"The way to get the third crossing is through the enterprise zone - that does put in place a fund for carrying out vital infrastructure and skills work."
The work is due to be completed by 2014/15.