Police lift protective cordon around Ipswich building site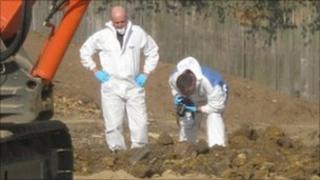 A cordon has been lifted from around a site in Suffolk where human skeletal remains were found when builders were digging foundation for four houses.
Police said post-mortem tests on a man's remains uncovered in Ipswich, failed to confirm a cause of death.
The discovery was made in Valley Road on 3 October when inquiries started.
More forensic work is to be carried out to try to confirm an identity but results may not be available for a number of weeks, police said.
The cause of death is still being treated as unexplained.
Police said earlier that they were investigating possible links to a missing person and were liaising with a family.