Crown Pools in Ipswich emptied for refurbishment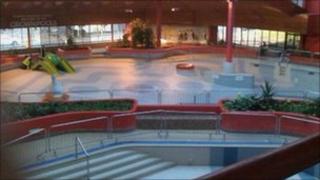 Two of the pools at Ipswich's main swimming complex have been emptied for refurbishment work.
The leisure and teaching pools at Ipswich Borough Council's Crown Pools will be closed until February 2012 as phase II of a £4m project begins.
The main competition pool will remain open until similar work begins on it in January next year.
Public swimming times have been extended at the Fore Street Baths during the Crown Pools refurbishment.
The work involves tiling, roofing, lighting, general redecoration and replacing heating equipment underneath the pools.
Tim Snook, sports operations manager for the council, said: "The pool complex was coming to the end of its life without major work being done.
"Underneath the pools it's something like a James Bond scene and I don't suppose our customers realise what goes into making all the pools as clean as they are.
"People will notice a huge difference - it'll be very clean, the temperatures will be really nice and it'll be a good environment for swimming."
The leisure and teaching pools are due to reopen on 20 February 2012.
The competition pool will close on 23 January 2012 and it is due to reopen in June.
The gym will remain open throughout the work.