Bus and taxi collision in Bury St Edmunds town centre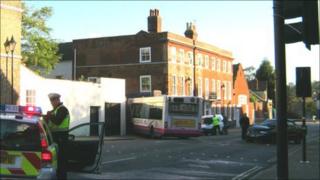 A First Eastern bus has collided with a taxi and a wall in Bury St Edmunds town centre near the Abbey Gardens.
It happened at the junction of Northgate Street and Mustow Street and the police were called at 07:20 BST.
Jeremy Crouch, the taxi driver, was taken to the West Suffolk Hospital. The bus driver was not injured.
Nigel Barrett, managing director at First Eastern, said: "We have launched an internal investigation and are fully co-operating with the police."
The bus company, which is part of First Group, said its single-decker vehicle was not in service and was returning to the depot on Cotton Lane from the bus station.
It was heading along Northgate Street and turned left into Mustow Street where the collision happened.
'Fit for service'
The bus ended up hitting a wall between two houses opposite the Abbey Gardens.
The police closed the road and put diversions in place.
Mr Barrett said: "It would be wrong of me to speculate [on the causes of the crash] at this time, but clearly that [the brakes] is an area we would be looking at first.
"It was certainly fit for service when it went out this morning, but buses do develop faults during the course of the day and our investigation will centre on how this fault developed.
"The bus driver is very shaken and we are also hoping the taxi driver recovers well."
Colin Crouch, the brother of the taxi driver, said: "He's having breathing difficulties and is on morphine, but I think he's going to be okay."
Another car was involved in the collision, but the woman driver is believed to be unhurt.
First Eastern expects to have the results of the investigation by Friday.