Delia Smith named patron of Sir Bobby Robson Foundation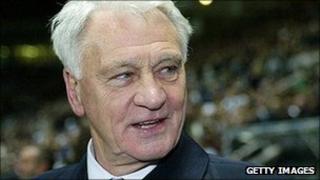 Delia Smith has been named patron of the Sir Bobby Robson Foundation.
The chef and joint majority shareholder of Norwich City Football Club will support the cancer charity set up by the former Ipswich Town manager and his wife, Lady Elsie Robson, in 2008.
Mrs Smith said: "Cancer knows no boundaries, and it is wonderful that this is one struggle in which all football clubs have united."
Sir Bobby, who also managed England and Newcastle, died of cancer in 2009.
Lady Elsie said Mrs Smith had been helping the charity since her husband died.
She said: "I asked a small group of friends if they would help support our ongoing efforts fighting cancer through the Sir Bobby Robson Foundation.
High profile support
"Delia was one of those people and, very kindly, she immediately agreed.
"Since then we've been waiting for an appropriate occasion to announce her support."
The occasion turned out to be a ball held in Bury St Edmunds as part of Sir Bobby's Breakthrough Auction, which ends on 23 October.
A total of £47,000 was raised on the night.
Jose Mourinho and David Beckham are among the well known names to donate items for the auction.
The Sir Bobby Robson Foundation had an initial aim of raising £500,000 for a cancer research unit in Newcastle.
Mark Robson, son of Sir Bobby and chairman of the charity, said it has now raised close to £4m.
He said: "Mum and dad have been friends with Delia for a long time.
"We've pulled together some patrons in the North East - one from Newcastle, one from Sunderland, one from Middlesbrough - and that works really well.
"On pitch rivalries are a different matter but off the pitch there are bigger matters."