Countess of Wessex opens hospital unit and fire station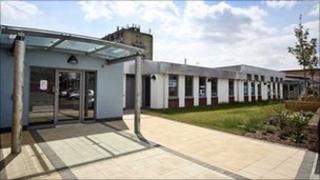 A new Ipswich fire station and a £19.6m mental health unit are being officially opened by the Countess of Wessex.
Four wards have been built at Ipswich Hospital replacing facilities at St Clement's Hospital.
The building, called Woodlands, includes a dementia assessment unit and a psychiatric intensive care unit.
A fire station formerly based at Colchester Road has moved to Ransomes Europark as part of Suffolk Fire Service's ongoing building programme.
The fire station is the last of 11 to be built in Suffolk using private finance initiative (PFI) funding.
It features six bays for emergency vehicles and also has community rooms for training the public in fire safety.
The Countess is also opening an arts centre at the Suffolk One sixth form college on Scrivener Drive, Ipswich.