BBC Give An Hour: Computer literacy campaign in Suffolk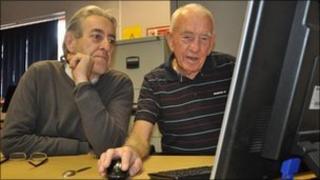 Skills trainers have said that gaining computer skills is vital if people want to keep up with the labour market.
A BBC campaign called Give An Hour aims to encourage people to volunteer to help others learn about computers.
Figures show 37% of East Anglia's over-55s have never used the internet.
Dee Crowe, from Suffolk Chamber of Commerce, said: "So many transactions are done online that employees have to be computer-literate and it's very important for the local economy."
The chamber runs weekly information technology (IT) workshops and took part in a project with Ipswich Borough Council to help people who were over 50 and unemployed improve their computer skills.
Ms Crowe, who is skills manager for the chamber, said: "For any job at all now, people are being required to apply online so it's really important to get assistance and take the first steps.
Creative sector growing
"Companies will look at the quality of labour when they're thinking of moving to Suffolk because having a ready supply of skilled employees is very important," she said.
"The creative sector is growing in Suffolk and obviously IT is important there."
Give An Hour, which follows on from the BBC's First Click campaign, is being run in partnership with the UK Online Centres network.
CSV (Community Service Volunteers) Media is part of this network and its Clubhouse offers free drop-in sessions in IT on Monday, Wednesday and Friday mornings.
Siobhan Barrett, volunteer coordinator at CSV Media, said: "A computer is quite alien to some people, but everything is becoming digital.
"I'm in my 50s and I remember in my 30s thinking that if I didn't get online, I'd be left behind.
"We have people who've used typewriters in the past and we encourage them to come down and learn at their own pace to understand email, open or write a document and these things are quite important if they want to apply for a job online."
A Give An Hour survey showed 33% of BBC Radio Suffolk listeners have never used the internet, compared to an average of 29% for all BBC Local Radio listeners.
As well as being important for the jobs market, Give An Hour aims to encourage older people to use the internet for their personal interests.
Fred Driver, 79, has used CSV Media and said: "About a year ago I felt I was lagging behind and not keeping up with things.
"Friends at church kept saying 'I'll send you an email' and I had to say 'you can't because I'm not on that'.
"I've gone on to mail merge and labels, because come Christmas we send about 150 cards."
Brundish Training has prepared a Give An Hour: Helpful Hints advice sheet for people who want to be volunteer trainers.
Give An Hour runs across the BBC, Monday, 24 - Sunday, 30 October, 2011.