Golliwog doll racism charges against Jena Mason dropped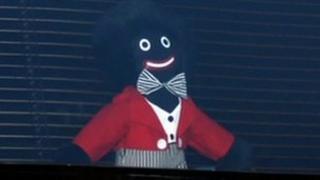 Racial harassment charges have been dropped against a Suffolk woman whose neighbour complained about a golliwog doll in her window.
Jena Mason, 65, of College Lane, Worlingham, was arrested after a neighbour complained to police.
Mrs Mason had denied displaying an item likely to cause racially-aggravated harassment at an earlier hearing in Lowestoft Magistrates' Court.
The case against her was dropped after the CPS offered no evidence.
Mrs Mason was questioned after her black neighbour Rosemarie O'Donnell complained to police about the doll.
Mrs O'Donnell claimed it had caused offence to her family.
'Rebuild relationship'
Chris McCann, head of the complex casework unit at the East of England Crown Prosecution Service, said a "review has been carried out at the highest level".
He said: "To establish that an offence has been committed, it would have been necessary to prove that Jena Mason was the person who placed the doll in such a prominent position likely to cause her neighbours racially-aggravated harassment, alarm or distress.
"On the evidence available, it is not possible to show exactly who was responsible for placing the doll in the window.
"Despite further inquiry and review, we have determined that the evidence is insufficient and there is not a realistic prospect of conviction."
Mrs Mason's solicitor James Hartley said: "She feels that her life has been turned upside down for the last two or three months as a result of this case, and she would like to try to get back to some degree of normality in her family life.
"She would also like to try, if possible, to rebuild her relationship with her neighbours because, at the end of the day, they still live next to each other."
A Suffolk Police spokeswoman said: "Police conducted a thorough investigation into the incident and then passed the information gathered to the CPS who, at that stage, decided there was sufficient evidence to charge Mrs Mason.
"The decision to discontinue the case is one they have taken."