University Campus Suffolk question mark sculpture criticised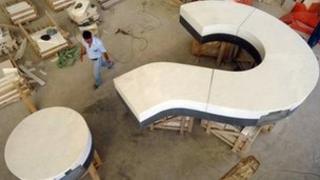 The £200,000 being spent on a sculpture at University Campus Suffolk would be better spent on public toilets, an Ipswich councillor has said.
University Campus Suffolk (UCS) has commissioned London-based artists Langlands & Bell to create the two-part piece on its Ipswich waterfront campus.
Conservative councillor Liz Harsant said the spending was "frivolous".
UCS said it had to build a "significant piece of public art" as part of gaining permission to build on the waterfront.
The sculpture, to be unveiled on 24 November, will be placed on the plaza outside the UCS headquarters.
The second part of the artwork is going to be an LED situated at the top of the north campus, just across the road, which will "link conceptually and visually with the piece of sculpture".
'Really privileged'
Ms Harsant, whose Holywells ward covers part of the waterfront, said it seemed "very strange" that UCS could find "frivolous money" in the current economic climate.
Chrissie Harrington, head of the School of Arts and Humanities, said: "It's something we had to do.
"We didn't have a choice to say 'we've decided not to' - it's something Ipswich insisted on."
Ms Harrington said UCS's contribution of just under £100,000 towards the project was put aside in 2006 as part of the waterfront development.
She said none of the money for the artwork was coming directly from the taxpayer, although Ipswich Borough Council is listed as a stakeholder in the project.
Ms Harrington added: "We are a university and we are about questioning, interrogating, questioning - we are curious.
"The question mark is about us looking to the future as a university... we're really privileged to have this."