Bungay's pumpkin night cancelled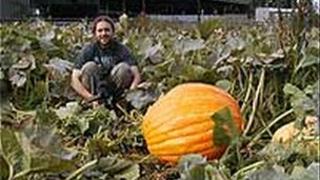 A Halloween event which has attracted thousands of people to the streets of a Suffolk town has been cancelled.
Organisers of the Bungay Pumpkin Night said the family-run festival had become too much for them to manage themselves.
They said rising costs have had an impact, but said the festival - which in previous years has featured some 100 carved pumpkins - would return in 2012.
Deirdre Shepherd said: "You need insurance, road closure, first aid - nothing is easy any more."
She said people had travelled from Europe to attend the festival in previous years and that it was a difficult decision to cancel this year's event.
'Outside help needed'
All the pumpkins for the event, which began eight years ago, are from a local farm.
"What we really need is outside help," said Ms Shepherd.
"We could continue to do the pumpkins and display but we need people to do the organisation - unless we get that now, we won't be able to continue."
Ms Shepherd's daughter Dorcas said: "There's nowhere else in the country doing something quite like what we do, so we want it to continue.
"If we lose it, somebody else will do it and we'll lose something that people know the name Bungay for."