Energy plan at Great Blakenham seeks industrial partners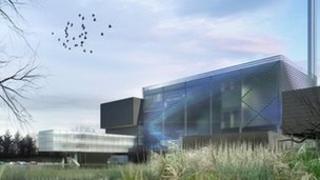 A waste incineration company has appealed for potential industrial customers to come forward before it considers building a heating network that could heat an industrial estate in Suffolk.
Commercial waste firm Sita is building a £185m energy-from-waste plant at Great Blakenham near Ipswich which will provide electricity to the national grid.
A by-product of that would be a network of heating pipes which Sita claims would provide energy up to 10% cheaper than rivals in the area.
The initial pipework would have to be within a four mile radius of the plant, which would include the Whitehouse Industrial Estate in Ipswich.
Sita said it needs to get 10-12 factories, processing plants or office blocks on board for it to press ahead with the network.
'Icing on the cake'
Cliff Matthews, from Sita, said: "That's not to say that once we get a network established we can't then link up groups of houses or even individual houses, but the engineering challenges are not straightforward, although it is more straightforward in new houses."
Suffolk County Council, which is responsible for waste disposal, has given Sita a 25 year contract and expects the facility to open in 2014.
Councillor Lisa Chambers, portfolio holder for waste, said: "We were always going to have the facility generate combined heat and power (CHP), so the next step is to get organisations to take advantage of this opportunity.
"It puts our waste to good use and will be at least £350m cheaper than continuing to landfill.
"If Sita UK could get a heating system running from the facility, it would really be the icing on the cake."
Andrew Stringer, leader of the Green group at Suffolk County Council and Mid-Suffolk District Council, said: "This district heating system could be made to work, but it would have been easier if this had been built into the plans from the start.
"Since then over 400 homes have been approved in the locality and they should have made the developers buy into the heating scheme as a planning condition.
"Questions arise as to whether there are enough of the right businesses in the area to absorb the amount of hot water that would be created."
The company said it could extend it to households once it is set up.
Sita said the heat generated during the waste incineration process, in the form of steam, will definitely be used to power a turbine generating electricity for the equivalent of 30,000 homes.
Cliff Matthews, regional manager for Sita, said: "We would like to establish a district heating network as well which will utilise the heat a little more efficiently in the local area.
"Realistically, we should be able to undercut existing energy supply prices by at least 10%."