Thomas Dolby's new album comes with a computer game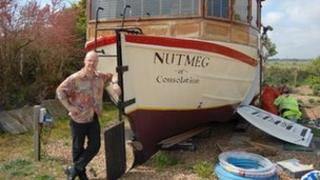 Thomas Dolby has released his first album for 20 years, which was recorded using his studio in an converted lifeboat on the Suffolk coast.
A Map Of The Floating City is out on his own label and it is accompanied by a UK tour starting at Snape Maltings.
Dolby took a break from the music industry and worked in California on projects including synthesizers and ring tones for mobile phones.
The new album features Mark Knopfler and Eddi Reader.
It is divided into three sections - Urbanoia ("songs with a city/world music vibe"), Amerikana and Oceanea, which is inspired by Suffolk.
"Oceanea is really about my return to East Anglia which I think is my spiritual home," said Dolby.
Container ships
"My mum's family were from around here and my great-great-grandfather Newson Garrett built the Snape Maltings and large parts of Aldeburgh and Leiston, so it's fascinating to drive around with my kids.
"I love the tranquillity of the coast and staring out over the North Sea and dreaming up songs that way.
"As I stare out over the sea I see these giant container ships going in and out of Felixstowe and I've become a bit of a 'trainspotter'.
"At different times of day these ships look a bit like the Manhattan skyline and that gave me the idea of the floating city.
"I thought about this dystopian future where these floating container ships were all that was left."
The new album has a companion Floating City computer game and poster, inspired in part by his own songs from the 1980s when he had hits including Hyperactive and She Blinded Me With Science.
Dolby said: "I would lurk around internet sites where I found people would log in as characters from my songs, and write fan-fictions based on storylines from songs, so you'd find a Europa, a Caroline or a Budapest.
"The Floating City game was an attempt to get my arms around this and all the items and character names in a lyric became the basis of a trading game."
Dolby is also staging another TEDx gathering at Snape Maltings on Saturday, 5 November where guests will explore and discuss trends in contemporary music.