Barwells to close its Bury St Edmunds butcher's shop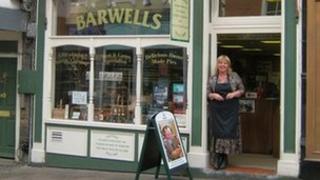 A butcher's shop in Bury St Edmunds, Suffolk, is to close after trading on the same street since the 1880s.
Barwells is to close its Abbeygate Street store on Christmas Eve to concentrate on home deliveries.
The owners said the store was not making a loss, but online shopping was growing.
Judy Harper, sales director at Barwells, said: "We have to safeguard people's jobs by looking at the next generation of retailing."
Barwells, which was established as a food supply company in 1860, sells local produce and makes its own products such as game pies.
It employs 22 people in Bury St Edmunds and Studham in Bedfordshire.
Ms Harper said: "Online shopping and home delivery is the growth area and that's where our business is going as well.
"Our industry has changed and people are shopping differently and the emphasis we have to look at is where that trade is going.
"We've always had a very loyal customer base, but we will be able to deliver from our base back at Studham all the quality items that they've been used to."
The shop, which is owned by Barwells, will be rented to a patisserie which will continue to stock Barwells' sausage rolls.