Elizabeth Cross awarded to four Suffolk families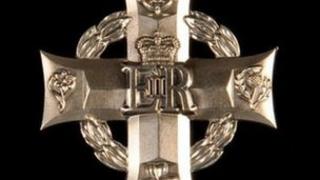 Four families of soldiers killed on active service between 1948 and 1994 have been honoured at Wattisham.
The families of Maj Christopher Dockerty, L/Cpl Alan Alderson, Pte Arthur Playford and Driver Alan Davies have received the Elizabeth Cross and Memorial Scroll.
The families of the four soldiers all come from Suffolk.
Lord Tollemache, Lord Lt of Suffolk, and Brig Andrew Williams of 49 (East) Brigade made the presentations.
The Elizabeth Cross was introduced in 2009 to recognise the families of soldiers killed on operations or as a result of terrorist actions since 1948.
'Beautiful medal'
Maj Christopher Dockerty died in a helicopter accident in Scotland in 1994.
His father John Dockerty said: "Looking at the medal, it's a very beautiful piece that has been very well designed and beautifully presented.
"It will certainly be a great memento for us to keep as a memory of him.
"[My son] was very modest. In fact, when he had any promotions he wouldn't tell us - it wouldn't be until he appeared at home with a different epaulette on his shoulder that we would realise."
Brig Williams said: "It is important that we recognise that even though soldiers are fighting in Afghanistan and other places today, they're not the first people to do that.
"The lives of soldiers have sadly been lost in combat for very many years prior to that and that it's important for the lives of those soldiers and their sacrifices to be remembered, even today."