University Campus Suffolk cuts tuition fees for mentors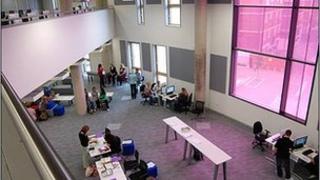 First year students at University Campus Suffolk could save £5,000 on tuition fees by becoming a mentor, it has been revealed.
Under the scheme, students will pay £3,000 in fees in their first year and return to their former school to talk about the benefits of higher education.
About 30 students from households where income is below £30,000 will be accepted in the first year.
UCS said the mentors would be charged with "raising aspirations in general".
Sian Hiskey, widening participation officer at UCS, said: "It's all coming out of our budget as part of the access agreement we've written.
"We've decided to put lots of money into widening participation and generally helping to lower the fees for some of our students."
The Suffolk Access Champion Scheme will only be open to students who have come from a state high school or sixth form in Suffolk or Great Yarmouth.
Students will be expected to mentor for two hours a week for 20 weeks.