Ipswich parks' grass could be cut less often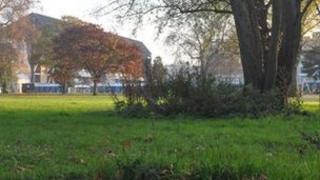 A plan to cut less grass in Ipswich's parks would save money and help wildlife, the council claims.
Ipswich Borough Council is beginning a public consultation for 26 parks and grassy areas across the town.
It said leaving an extra 35 hectares un-mown could save £18,000 a year.
Bryony Rudkin, councillor for parks, said: "If we let the grass grow and there are issues such as litter and dog mess and people are not happy, then we can cut it."
Wild patches
Ipswich's public parks and open spaces cover 500 hectares which cost £2.6m a year to maintain.
The 26 areas range from parts of the the town's largest park, Chantry Park, to roadside verges on Birkfield Drive.
Christchurch Park is not among the 26 areas, but it already has wild patches of un-mown grass.
Richard Wilson, chairman of the Friends of Christchurch Park group, said: "There were some objections, two or three years ago, from people who thought it might appear as though the park was being neglected, but those fears haven't been borne out."
The council claimed saving money was not the primary reason for the proposed changes.