WWII maps show Hitler's bombing targets in Ipswich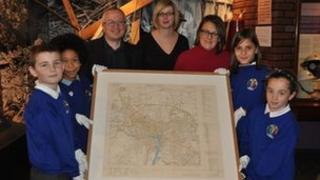 Germany targeted Ipswich docks and the surrounding area for bombing raids during World War II, according to maps recently acquired by Ipswich Museum.
Industrial buildings such as Ransomes are highlighted, as is the town's railway station.
The two maps were part of a haul of intelligence about the UK exported from a Nazi library in Austria in 1946.
The family of Squadron Leader HCK Henderson, who led the mission, sold the maps at auction in August.
The maps were part of Operation Sea Lion, the name given to Germany's plan for the invasion of Britain.
Jayne Austin, collections manager at Ipswich Museum, said Britain feared the information would fall into the hands of the Russians unless they acted quickly.
She said memos from the time state that a 'train of about five ten ton box wagons' were required for the operation.
Hospitals targeted?
Mrs Austin said: "The key sites are highlighted in purple, so you've got the factory and industrial areas around the docks, where you would have had Ransomes - a key engineering firm who were making munitions during the war.
"You've also got the train station and goods yards highlighted as key areas - they were obviously their prime bombing areas."
The two maps, one for Ipswich and one for East Anglia, also have buildings highlighted in red.
Mrs Austin said: "These are perhaps secondary targets, so parts of the rail lines, but interestingly also the hospitals - the one on the top of Berners Street and also Heath Road hospital.
"I'd question whether these were targets or not."
The maps are on display as part of the museum's wartime display and are being discussed in school workshops.
Mrs Austin said: "People are really interested to find out what happened in their local area, and how they would have been affected.
"What we do with the school groups is get them thinking what would have happened if they were living in war time, how they would have reacted, how they would have felt and to try and get them to have some empathy and understanding about how it would have been.
"It's a really good way of engaging with them."