Waveney councillor Andrew Draper fined for policewoman email slur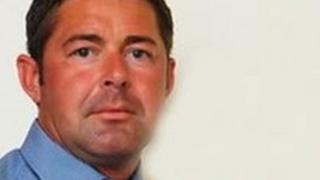 A former Conservative local councillor who resigned after a drink-driving conviction has been fined for sending an offensive email to a policewoman.
Andrew Draper, 37, who resigned from his Worlingham ward on Waveney District Council earlier this month, pleaded guilty to sending an offensive email to the Norfolk police sergeant.
Lowestoft magistrates in Suffolk heard the email contained personal abuse.
Draper was fined £250, and told to pay £250 compensation and £100 costs.
Draper, of Martin Close in Carlton Colville, had made a complaint against Suffolk Police following the drinking and driving case, when he also pleaded guilty to assaulting a police officer.
'Complete pariah'
The complaint was being investigated by Norfolk Police and the email was sent to Sgt Alison Tyler after she told Draper his complaint was not being upheld.
The court heard that Draper's email - said to have been sent when he was drunk - contained personal comments, asking "When was the last time a man desired you?"
Judge David Cooper told the court that Draper had fallen from being a pillar of society to being a complete pariah.
Draper had first left the Conservative group on the council and then resigned as an Independent councillor.
Simon Nicholls, Draper's solicitor, said: "He is bitterly ashamed of his behaviour towards the police officer and that is why he wrote a letter of apology to her shortly afterwards.
"He thinks that the judge summed it up perfectly and all he wants to do is to be left alone to repair his life as best he can."