Go Start charity's Sudbury minibus out of action due to theft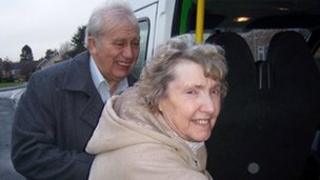 Thieves have put a charity's minibus out of service leaving pensioners, children and disabled people without community transport.
A catalytic converter was stolen from the vehicle at the Go Start depot at the Chilton Industrial Estate, Sudbury.
John Phillips, the charity's founder, said: "The vehicle will be off the road for several days, which means we cannot provide a full range of services.
"For many it's the only opportunity they've got to go out."
The charity provides minibuses for people who are unable to use conventional public transport.
It has one other 15-seat minibus, but they said it would not be able to cater for all the 480 passenger journeys they usually provide each week.
Mr Phillips said: "I'd like to get on to the people who did this, not to inflict personal injury, but to present them with the people that we're not now going to be able to support properly.
"Our next problem will be to try and improve security around the area where we keep the vehicles, but it will involve a fence that probably won't look very nice with spikes on it."
Go Start said the catalytic converter will cost about £1,000 to replace.