Mendlesham renewable energy plant could create 200 jobs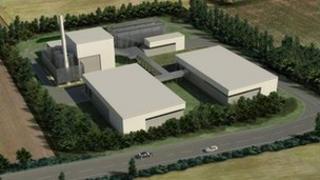 The burning of straw at a proposed energy site in Suffolk could power 65,000 homes and provide 200 jobs, according to the firm behind the plan.
Eco2 Ltd wants to build on land north of Mendlesham Old Airfield, near Stowmarket, and will host a public exhibition for the project in December.
The company said the plant would convert 240,000 tonnes of locally-sourced straw to electricity.
The exhibition will be at the scout hut on Mendlesham Green, 2-3 December.
Dr Andrew Toft, director of projects for Eco2 Ltd, said most of the straw would be sourced from farms within a 30 mile radius of the Mendlesham renewable energy plant.
'Smoke contamination'
About 200 jobs would be created during the two-and-a-half year construction phase, with 80 full time roles required once the plant was built.
Dr Toft said: "The exhibition will explain our proposals for the project and will give details about our reasons for choosing this location, what the plant will look like and how it works."
Eco2 Ltd said an Environmental Impact Assessment has been commissioned and the planning application should be submitted to Mid Suffolk District Council in the new year.
Mid Suffolk District Councillor Andrew Stringer, Green, said: "There are some local concerns in terms of possible contamination from any smoke which might omit from this.
"But obviously we're very interested in any renewable energy developments and we'll be watching this one closely."