Sons of Joy shun modernism for a more traditional take on music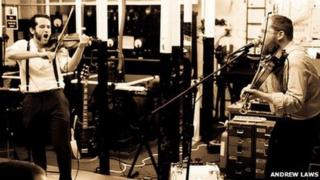 Sons of Joy have shunned everything you might associate with modern music to create a raucous debut album and memorable live show.
Their studio is an old shed, they record into a mobile phone and when they perform live it tends to be in an old barn, a church or on a boat.
The debut album, Songs of Joy, sees Daniel Merrill and Matthew Simpkins holla their way through 11 tracks, violently thrashing the pair of fiddles and kicking their bass drum as they go.
It features the duo's take on church songs dating as far back as the 9th Century, old blues songs, a Velvet Underground cover (Jesus) and a couple of their own arrangements.
The sleeve notes state the album was recorded "in a shed between 2.31pm and 6.05pm".
"The opposite of all that we like is stuff that is over produced and clear," said Simpkins.
'Rock up and play'
"We listen to a lot of pre war gospel, folk and blues - Alan Lomax type stuff - they rocked up and recorded people in their own houses.
"We play through battery powered amps called Pignoses and we shout because we mean it. That's the whole musical idea."
The no-fuss recording process and the basic live set up is a welcome change for the duo.
Both have played as part of Suffolk and Essex bands featuring up to 12 members, including These Are End Times and The Flowers of Evil.
Merrill said: "Trying to co-ordinate that can suck the fun out at times.
"But with this we rock up, don't even need to plug in as we're battery powered, and just go for it."
Gig in a shed
This ethos has spread to all aspects of the band.
The album artwork features a head and shoulders portrait of the couple, but their faces are hidden behind a black line - a quirk of the vintage camera used for the shoot.
"We were happy with the noise that we got from an iPhone in the shed, with all the ugly bits, so we thought it was appropriate that if there were photos that chopped our heads off it actually achieved the same thing," said Merrill.
Mersea Island was chosen as the location for the photoshoot and was also the venue for one of their first gigs - in a 19th Century shed which was only accessible by boat.
Simpkins said: "We wait for people to say do you want to play a gig in a church or an island, and we say yes.
"There's nothing wrong with pubs, but I'm too old, unless I'm sitting in the corner having a nice pint of bitter."