Suffolk public sector workers strike over pension plans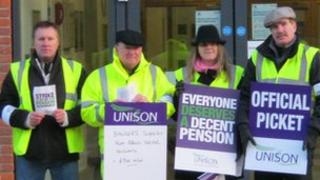 Picket lines have been forming in Suffolk as public sector workers join a national strike over pensions.
More than half of Suffolk's 345 schools are closed and the National Union of Teachers says all will be affected.
Theresa Mackay from the Ipswich and District Trade Unions said public sector workers have "had enough".
But the government has criticised the action and David Ruffley, MP for Bury St Edmunds, said those striking "don't realise what a good deal they've got".
Ms Mackay said: "We hope the government will wake up and see the majority of public sector workers are not in support of what they're doing."
Conservative MP Mr Ruffley said: "The public sector employees who are striking don't realise what a great deal they've got, even with modest increases in contribution.
"If you don't accept increased contributions are necessary you're saying the tax payer should put more money in, all of us."
Emergency calls
Ipswich Hospital said it expected to offer a mostly normal service and asked for patients' co-operation should there be any disruption.
West Suffolk Hospital said it also planned to deliver as normal a service as possible and had contacted anyone they knew would be affected.
Union members agreed to respond to 999 calls throughout the strike.
Suffolk County Council said adult care services including home care and residential care would be largely unaffected, as would the social work teams who have responsibility safeguarding children and adults.
There will be a reduced service at Ipswich Crown Court and councils warned some refuse collections would not take place.
Some driving tests were likely to be cancelled but people have been advised to turn up as scheduled.
Picket lines were being formed at the UK Border Agency in Felixstowe and at RAF Lakenheath and RAF Mildenhall.
Lucy Hibbert, from Prospect, said she expected the majority of the 1,000 MoD workers to walk out.
She said: "I've looked at the pensions calculator and I'm going to end up paying about £500 extra per year, which is effectively a pay cut, and I'll be losing tens of thousands of pounds by the time I get my pension."