Marina Theatre in Lowestoft handed over to charitable trust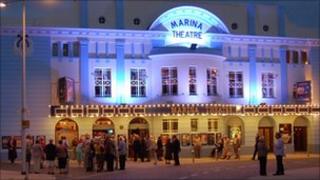 The handover of Lowestoft's Marina Theatre to a charitable trust has been completed.
The Marina Theatre Trust has taken over the running of the theatre, having won a 15-year contract.
Waveney District Council still owns the building and will continue to subsidise it with £150,000 a year for four years.
Hazel Clover, board of trustees chairman, said the new trust would "enable us to take the venue even further as a community resource."
The trust won the contract in March and took over running of the theatre on 1 December.