Stowmarket town centre plan on hold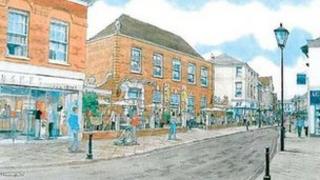 Shops in Stowmarket town centre say the ongoing threat of compulsory purchase means they cannot plan for the future.
Mid Suffolk District Council has a redevelopment plan for Ipswich Street which would mean knocking down a dozen stores and the United Reformed Church.
Private developers would rebuild with a larger "anchor" store at the centre of the £12m plan.
Planning inspectors rejected the council's bid for a compulsory purchase order on the existing shops last year.
Pam Shepherd, of Tucker's sandwich bar, said: "We've lost staff due to the uncertainty of their future and all we hear are rumours that it's on or off.
"If we get people asking us to do a wedding reception in a year's time, we have to say to them we really don't know where we're going to be in a year's time.
Frustration
"The town centre needs this redevelopment or it'll become a ghost town."
Joe Dormer, from Vivian Joseph jewellers and photographers, said: "It's very frustrating. I've had councillors come in and say we'll be knocked down by this Christmas and even by Christmas last year.
"We're still standing, but we've got no indication of when this property is coming down."
Mid Suffolk Council said it was working with Ipswich-based developers ISG Southern and investors Henry Lax of Leeds on the plan.
David Benham, regeneration manager for the council, said: "You need to know who the retailers are to design the detailed part of the scheme around it, but the retail market is on the floor.
"If the investors get an anchor tenant in place, then things will start to happen very quickly and we're hoping it will be sometime next year."
The council said the investors would be applying for outline planning permission next year, which should enable it to get approval for the compulsory purchase order.
The former post office is the only building that would not be demolished on the 140m stretch of Ipswich Street.