Walberswick council axes Christmas tree in information row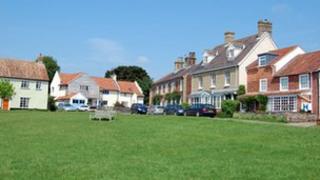 A parish council has doubled its tax demand, cancelled meetings and axed the village Christmas tree after facing a flurry of Freedom of Information requests.
Walberswick Parish Council, in Suffolk, said it had been forced into drastic savings because of the "unbearable burden" of answering the questions.
The council has received more than 100 requests in the past 18 months.
One resident said the cost could have been avoided by a "more open" approach.
David Webb, parish council chairman, said the issue had led to tensions in the upmarket coastal village.
"I'm not saying it has torn the village apart but it has certainly created a lot of unpleasantness," he said.
"It's placing an unbearable burden on the council clerk. We've got other things to do and this is hindering the effectiveness of the the council."
Housing development
Since May 2010, the council has been asked a succession of questions by a small group of villagers, thought to be made up of four households.
Questions initially related to a planning application for a small housing development in the village.
Other requests have since been made about the running of the parish.
The Freedom of Information Act allows individuals to ask questions of public authorities.
Retired city worker John MacCarthy, 66, said he had used the legislation to ask around 20 questions in the past year because he wanted answers about general council procedures.
"I do think the parish council should be subject to scrutiny," he said.
"If they had answered my questions in May 2010 there would not have been any subsequent requests. They could have avoided this cost by being more open."
Help available
Mr Webb said the parish wanted to increase its council tax precept demand from around £7,000 to £16,000 and had agreed to cancel meetings until April to pay for the cost of answering the questions.
The council also decided it could not afford to buy a Christmas tree for the village this year, although one has since been donated by a member of the public, he said.
Mr Webb said more than 100 requests had been received in the past year.
A spokesman for the Information Commissioner's Office, an independent body that oversees the requests, said help was available for councils like Walberswick.
He said: "If the cost of responding to an aggregated request exceeds £450 or 18 hours' work then the authority can refuse to provide the information.
"Public authorities that need advice on how to handle FOI requests can contact our office and we will be happy to help."