Suffolk Brownie pack down to one member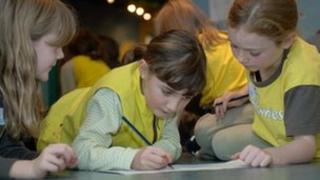 A Brownie pack in rural Suffolk is in danger of folding as membership is about to drop to one.
The Acton & Great Waldingfield group is 40 years old, but two of its remaining three girls are about to leave.
The organisers say they cannot afford to rent the school hall for one girl.
Linda Pease, Brownies district commissioner, said: "The young woman who runs it has tried every avenue to recruit more girls, including a half page advert in the local newspaper."
The Brownies meet weekly at Acton Primary School, which costs £10 to hire for an evening.
Girls are charged £20 subs for every 10-week term.
The two girls who are leaving will be 10 years old next year, the age when they could move on to Girl Guides.
Organisers said the lack of members could be down to competition from other pastimes or a feeling that Brownies is not "cool".
Ms Pease said: "There are a lot of activities in Acton and Waldingfield for girls, and boys, and parents can only afford a certain amount, but in the Brownies they learn skills for life that they don't do at school, including first aid and water safety."
"Quite a lot of girls, when they get to Guide age and get to upper school, are afraid to say they're a Guide because of tormenting."