Find charity in Ipswich breaks Christmas record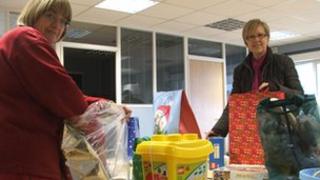 An Ipswich charity which gives presents, food and aid to poorer families at Christmas says it is having a record year.
Families in Need (Find) has already exceeded last year's total of giving 1,188 children and 960 adults a gift.
It also has 1,000 food boxes to hand out, compared with 850 last year.
The charity, which operates all year round, was founded in 1990 and about 15 churches are part of the network in the Ipswich area.
Find director Maureen Reynel said her history of charitable work had its origins in her own childhood where she was the youngest child of seven whose mother died when she was 11 years old.
School referrals
"Find is based on faith, hope and love and without that I couldn't do what I do, because it takes a lot of energy," she said.
"I need lots of miracles, and they do happen."
People who get the presents and food are referred to Find by social services and support groups covering areas such as mental health, drug and alcohol addiction and domestic abuse.
Presents and food are donated to Find at its premises in east Ipswich where volunteers collect and wrap.
Jackie Durrant, one of the volunteers, said: "It's very interesting and you meet all sorts of people and, until I started four years ago, I had no idea just how many people needed help, and it's being going up and up each year."
Classes at Farlingaye High School, Woodbridge, have held a competition to see who can make up the best hamper.