Man who suffered fatal injuries at Ipswich docks is named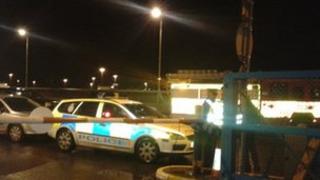 A man who died when he was crushed moving a pontoon at a Suffolk port has been named by police.
Neville Wightman, 52, from the local area, was killed at Ipswich docks on Cliff Road on Friday.
A post-mortem examination found he died as a result of crush injuries.
A man in his 40s, from Lowestoft, was also injured in the incident and is said to be in a serious condition at Ipswich Hospital but with non-life threatening injuries.
A joint police and Health and Safety Executive (HSE) investigation is continuing.
The men are believed to have been loading a pontoon onto a flat bed trailer with a crane when the lorry overturned crushing them.