New Year Honours: Ipswich Women's Aid worker made MBE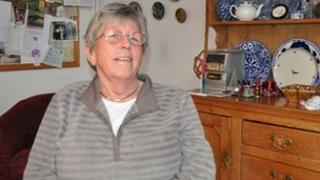 A woman who helped start a refuge for victims of domestic violence has been appointed MBE in the New Year Honours.
Hilary Cadman, 67, worked for Ipswich Women's Aid from 1976 until she retired in 2009.
She said: "I just believed in the need to give women somewhere to escape to and for their children who equally suffered.
"It's wonderful now in comparison and society in general understands the issues around domestic violence."
The charity, now called Lighthouse Women's Aid, built a new refuge in 2000 and has appointed school liaison officers and carried out training with organisations including the police.
Ms Cadman said: "There were times when I felt vulnerable in the early days, perhaps walking home and I had abuse shouted at me, but when you truly believe in what you're doing, you just deal with it and move on."
Patients' alliance
A father who helped found a medical research charity after his son died of variant Cruetzfeldt-Jakob disease has been appointed OBE.
Lester Firkins, from Playford near Ipswich, helped set up the James Lind Alliance in 2004, three years after his son Ellis, 21, died.
It brings patients and clinicians together to promote what they believe are the areas most in need of funding for medical research.
Mr Firkins said: "I had always assumed the things that were important to patients and clinicians were the things that got researched, but they weren't.
"As often as not it was what universities and leading academics decide they want to look at, and that seemed back to front.
"Close to £1bn of taxpayers' money is spent on medical research and we leave it to the patient and clinician group to take [their recommendations] to the funders [at the Department of Health]."
Also honoured
Also appointed OBE is Det Supt Alan Caton, of Suffolk Police, who has led the anti-prostitution strategy following the Ipswich murders of 2006.
There are seven other people in Suffolk who have become MBEs.
They are Sue Brace, of Felixstowe, the national president of the Care of Police Survivors charity; Elizabeth Griffiths, who is a volunteer at the St Mary's Opportunity Group for Children with Special Needs in Felixstowe, and John Hibberd, who is deputy head teacher at Thomas Mills High School in Framlingham.
Wing Cdr Martin Hooker is appointed MBE for his work with the RAF Regiment at RAF Honington, as are Jennifer Hursell for her work as town clerk in Southwold; Anesta Newson for her work with the Bridge Project in Sudbury for adults with learning disabilities; and Mike Read, who is president of the Channel Swimming Association and part of the campaign to reopen the Broomhill open-air swimming pool in Ipswich.
Elsewhere, Diarmaid MacCulloch, the Oxford-based Professor of history and television presenter, who grew up in Wetherden, has been knighted.
Jacqui Cheer, who was deputy chief constable of Suffolk during the 2006 Ipswich murders, has been awarded the Queen's Police Medal. She is currently the temporary Chief Constable of Cleveland Police.