Bury St Edmunds attempted murder witness appeal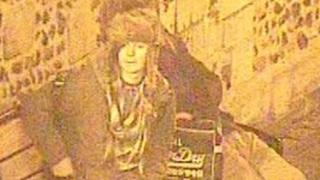 CCTV images of potential witnesses to an attempted murder in Bury St Edmunds have been released by police.
Suffolk Police are investigating the stabbing of a man in the area of the Arc shopping centre between 04:30 and 05:30 GMT on 1 January.
The man was found in a property in Gosnold Street at about 14:50 GMT and taken to hospital for treatment.
A police spokesman said the people in the CCTV images were being sought "purely as potential witnesses".
The victim of the attack is at West Suffolk Hospital in a stable condition.
The first CCTV images were captured at about 05:10 GMT on 1 January opposite McDonalds in the Buttermarket, Bury St Edmunds.
The second image shows two people, a man and a woman, walking along Angel Hill in Bury St Edmunds at about 05:15 GMT the same morning.
Police also renewed an appeal for a man who phoned police to report a disturbance in the area of the Arc shopping centre, to come forward.
A 32-year-old man from the Bury area was arrested on the evening of 1 January on suspicion of attempted murder and remains in custody at Bury St Edmunds police investigation centre.
Two other men have been arrested on suspicion of attempted murder.
A 30-year-old man from Northampton was arrested in Northampton and is currently in custody.
A 32-year-old man from Eastbourne was arrested in Eastbourne.