English Heritage signs up Suffolk for anti-crime scheme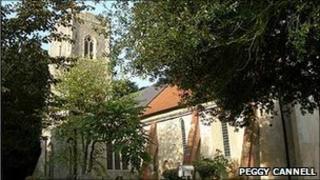 People in Suffolk are being urged to take part in a scheme to tackle crimes such as metal theft from churches.
English Heritage's Alliance to Reduce Crime against Heritage (Arch) aims to identify and protect historic assets by working with communities.
Suffolk County Council has now signed up to the scheme.
Councillor Guy McGregor said: "We have a hugely rich heritage in Suffolk and it's important that we cherish, value and protect it."
The council said its database showed there were 13,000 historic buildings and 27,000 records of archaeological sites and 'findspots' in Suffolk.
Heritage crimes include thefts and vandalism at buildings and unlawful excavations from archaeological sites.
'Uninsurable'
English Heritage said it aimed to make Neighbourhood Watch, residents associations, local history groups and local police teams aware of the heritage around them and the best crime prevention measures.
Mr McGregor said: "A very small number of people have a habit of doing these things and if we can identify their habits and modes of operation, it gives us a better chance of stopping them and bringing them to justice."
Earlier this winter a warden slept overnight in his church at Hessett to ensure nothing was stolen while building work was carried out.
Anne Sloman, chair of the Church of England's Church Buildings Council, said: "Many congregations, particularly those in isolated areas, are suffering repeated theft of lead from church roofs.
"We fear we are rapidly approaching the time when the issue is so great that they will become uninsurable."
The Crown Prosecution Service and the Department for Culture, Media and Sport also back the Arch scheme.