Wind In The Willows staged by Denis King in Walberswick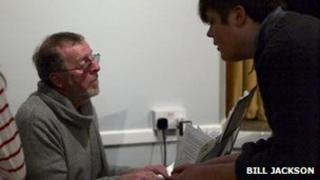 An Ivor Novello Award-winning songwriter is staging his musical version of Wind In The Willows in his local village hall in Suffolk.
Denis King wrote the score for the show which is taking place at Walberswick Village Hall on 1-5 February.
About 150 local people are in this version of the children's classic which made its theatrical debut in 1984.
Mr King said: "Obviously you're dealing with non-professional people and we try and get the best out of everybody."
Mr King wrote the musical, based on Kenneth Grahame's book, with Willis Hall and the first production in Plymouth starred Terry Scott as Toad, Patrick Cargill as Badger and Melvyn Hayes as Mole before it transferred to the West End.
'Working them hard'
Jack Solloway, 17, who is playing Toad in Walberswick, said: "I've known Denis for a while and he's great to work with and really supportive.
"It's odd to think he wrote it nearly 30 years ago for major stars and now we're doing it in our village hall.
"I want to go into acting so this is great experience."
Mr King won Ivor Novello Awards for best television theme for Black Beauty in 1972 and for best British musical for Privates On Parade in 1977.
Mr King, who is pianist and musical director for the Walberswick production, said: "Work's work and you have to do it as well as you can, whether it's the best actors in the world or village people.
"We do bring a wealth of experience to the productions."
Julia Sowerbutts, director, said: "There are 25 songs and we are cast with 150 people from the village, which has only got 350 inhabitants.
"I work them very hard and I wouldn't rehearse any differently if I was going to the West End."
The village hall has a capacity of about 100 and tickets are available from Walberswick's Tuck Shop.