St Edmundsbury Cathedral has record visitor numbers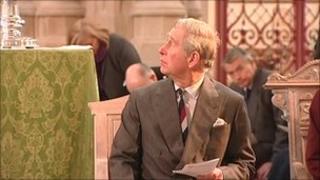 Officials have said Bury St Edmunds' cathedral had a record number of visitors in 2011.
St Edmundsbury Cathedral said 97,000 people visited last year, including Prince Charles who came to look at the completed Millennium Project in March.
Last year was the first time the building had been free of scaffolding since project began in 1999.
Sarah Friswell, from the cathedral, said visitor numbers had been rising but 2011 "saw a marked increase".
The cathedral's new tower was finished in 2005, at which time visitor numbers stood at about 50,000.
Since then work on the cloisters, vaulted ceiling and organ loft have all been completed as part of the £12m project.
Ms Friswell said: "Our visitors have been very patient with us, and I've been guilty of spinning the line that they should look at it whilst it's being built, but come back when it's finished and that's been paying dividends.
"We have no intention of charging [like some cathedrals] and we want the cathedral to be free and welcoming to everybody, but donations are very important to us."