Injured Royal Anglian soldier gets scuba diving qualification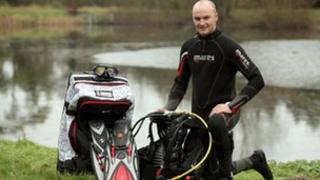 A former soldier from Suffolk who fractured both his legs while training for a tour of Afghanistan has qualified as a scuba diving instructor.
Peter Wesley, 28, from Bury St Edmunds was training with the First Battalion Royal Anglian regiment when he was injured.
Unable to walk without help for six months, Mr Wesley was left at home as his friends left for their mission.
But through an army scheme, Mr Wesley has now passed a diving exam.
Having trained with the Army Sub Aqua Diving Association (ASADA), Mr Wesley has now qualified as an open water instructor.
"It has given me a new qualification but, probably more important than that, it has given me a different way of life.
A new passion
"A new passion which I can get stuck into and enjoy, just like the buzz I used to get out of being a soldier."
Mr Wesley, a former private with the Royal Anglians, said he had started to suffer extreme pain in his shins while training for the operation in March 2007.
An X-ray revealed he had fractured the tibias in both his legs.
As his comrades left for the Middle East, Mr Wesley began his recovery.
"It was awful because all my mates were getting ready to go to Afghanistan and I was doing nothing," he said.
"It just seemed so wrong, to suddenly not be in that team, getting ready for what we had trained for all that time.
"That's what broke me the most.
"I went from training to fight in a battlefield one day to sitting in a room doing nothing the next so the offer of diving with ASADA gave me something to strive for."
Mr Wesley has since been discharged from the army on medical grounds.
But he said the training he got through the ASADA scheme helped him through his injuries, which had halted his army career.
"This qualification means I can give something back, help other soldiers learn to dive and realise the excitement in life doesn't stop just because you are injured," he said.
'Different world'
The project was devised by Guy Wallis, a platoon commander during the Falklands War from Salisbury, who first suggested the benefits of diving as rehabilitation for injured soldiers in 2008.
The programme is now run as part of the Battle Back team, a group of military experts in rehabilitation through sport, physical training and adventure activities, funded by the charity Help for Heroes.
The group, which is the army branch of the British Sub-Aqua Club (BSAC), organises expeditions to Malta and Cyprus twice a year to help the worst-injured servicemen and women gain their diving qualifications.
John Gibbon, a former lieutenant colonel in the Royal Artillery, is one of the project's main instructors and diving officer of ASADA.
"For these servicemen and women, it is a different world for them to escape to for a while," he said.
"What you have to remember is that for many of them, this will be the first adrenaline rush they have experienced since being wounded and that is very much a positive thing."