Suffolk juice company invests £1.5m in beetroot plant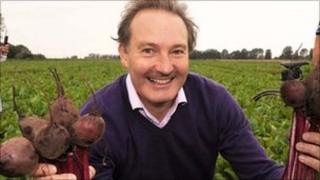 A Suffolk fruit juice company is building a £1.5m extension to its headquarters so it no longer has to send beetroot to Germany to be pressed.
James White Drinks is building the beetroot processing plant in Ashbocking, north of Ipswich.
Managing director Lawrence Mallinson said the plant could press up to 1,000 tonnes of the vegetable to be used in its beetroot juice drink.
He said more than £500,000 of the money came from a European Union grant.
He said: "It's quite easy to press beetroot juice, but unfortunately it's a very unstable product.
"The acidity needs to be altered and you have to sit on it and wait a couple of weeks.
"We're building a warehouse which has got lots of tanks and specialist equipment for handling and processing beetroot."
Mr Mallinson said the plant could generate two more jobs at James White, which produces a range of fruit juices and currently employs about 25 people.
It should be finished by July.