Boys admit stone attacks on A14 in Suffolk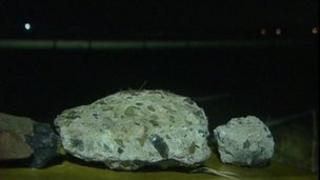 Two eight-year-old boys have admitted throwing stones at cars on the A14 in Suffolk.
The boys, from the Felixstowe area, were interviewed by police after rubble and stones were thrown at vehicles near a bridge at Trimley St Mary on 15 December.
Thirteen vehicles, including an ambulance, were damaged.
Police said they were "shocked" those involved were so young. No legal action will be taken because of the boys' age.
Det Supt Stuart Sedgwick, said: "We were shocked to discover that the incidents in Trimley St Mary on 15 December had been committed by boys of such a young age.
"We are confident that these two were responsible for the reported incidents from that day.
"We will now be working with the boys, their parents and the youth offending service to ensure the boys are educated about the dangers and consequences of their actions."
A spokesman for Suffolk Police said the boys had been identified through a combination of witness accounts, CCTV footage and speaking to schools in the area.
Both boys were interviewed by officers and have admitted their involvement in objects being thrown at vehicles, he said.
No legal action will be taken against the boys as they are under 10, which is the age of legal responsibility.
Two lorries had a window and cab damaged, while the windscreen of an ambulance was cracked and a car's side window was broken.
A police spokesman said the force had been working with partner agencies to deal with a number of incidents of objects being thrown from bridges over key routes in Suffolk.