Garden for Sudbury mental health patients being created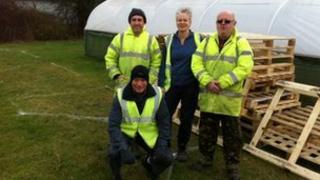 A new community garden is being created by, and for, people with mental health issues in Suffolk.
About 10 adults will be involved in the Growing Ourselves Through A Plot Of Land project at the Sudbury Resource Centre.
Yvonne Moores, project director, said: "In today's society, mental health is becoming more and more of an issue.
"Programmes such as this build self-esteem, provide training and help people return to work."
The centre already has a horticultural business which provides work and training for about 60 adults with learning disabilities, whereas the garden project is for people who have developed mental health problems such as depression.
Jason Clark, a member of the project team who is recovering from a mental breakdown, said: "I've been out of work for quite a while, so I want to get active again and build up my stamina.
Confidence building
"I just wanted to get involved in things because it's quite hard to get back into the community and build up my confidence.
"Some people can't understand mental health issues - I might be quite lucid at the moment, but another day I might not be like that at all - and people need to learn about that sort of thing."
Graham Moore, who suffers from anxiety, said: "I've had it a few years and it comes and goes.
"This project is going to get me out and about a bit more and hopefully give me a good garden at home eventually, which will please my wife."
The educational charity Eastfeast is running the project and is planning on creating raised vegetable beds in the garden, which is just under the size of a tennis court.
Sarah Roseblade, from Eastfeast, said: "Research has shown that people do much better if they're outdoors and I've seen people's mental health improve through gardening.
"It's aimed at involving the whole community and anybody who's at home feeling lonely, depressed or isolated can come along and get involved."