Halesworth residents vote on land sale for sports complex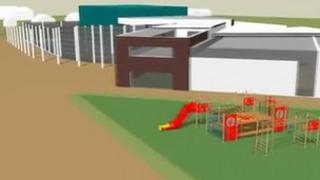 A referendum is being held to see if local residents back the sale of land to fund a new sporting facility on a school site.
A voluntary group wants to build at Halesworth Middle School and the adjacent Dairy Hill field, owned by Halesworth Playing Fields Association, when the school closes.
The association's 1952 constitution states residents must vote on the sale.
The development would include a sports complex, homes and offices.
The Halesworth Campus Group (HCG) wants to buy the land and oversee the development.
Unanimous backing
It has the backing of the Halesworth Playing Fields Association, whose members voted unanimously to sell the land.
Adult residents can vote in person at the school on 21 January, between 11:00 GMT and 20:00 GMT.
Suffolk County Council has offered to give the middle school building to the group, subject to conditions, after it closes in July.
The building would be partly demolished to make way for the sports complex, which would include an indoor swimming pool, gym and cafe.
Work would begin on the site at the beginning of 2013.
Tony Goldson, Conservative county councillor for Halesworth and chairman of the HCG, said: "This is a once in a lifetime opportunity for Halesworth - we've got the chance to create a fantastic community hub with something to offer everyone."
The HCG is in the process of registering both as a company limited by guarantee and a charity - creating Halesworth Campus Ltd.