Peter Avis murder: Family 'devastated' over death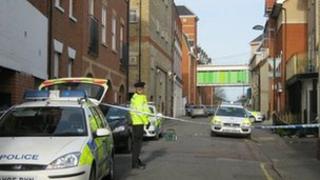 The family of a Suffolk jewellery shop owner, who was stabbed to death by a burglar, say they are "devastated".
Peter Avis, 66, was found dead in his flat above the shop in Abbeygate Street, Bury St Edmunds, after police were called on Friday morning.
A 34-year-old man was arrested in the Haringey area of London on Friday night and has been brought to Suffolk for questioning.
Police are appealing for help over the raid at the Collis & Sons shop.
In a statement issued by Suffolk Police, Mr Avis' family said: "Peter Avis was rather eccentric but a gentle, old-fashioned and private man.
"His life centred on his shop and flat. Due to this he was, perhaps, extremely vulnerable. We are all devastated by this sad news."
Det Ch Insp Neil Luckett, who is leading the investigation, said: "He was a vulnerable man and the motive appears to have been a burglary that then involved an assault on him and the use of a weapon.
"Someone must know who did this and must be aware of where the jewellery and other items stolen during the incident are now.
"Our investigation is ongoing and we'd continue to ask anyone who may have been in the Abbeygate Street or High Baxter Street area on Thursday night into Friday morning, or anyone with information about those involved or where the items are now, to come forward.
"We want to reassure local people that everything possible is being done to find those involved in this crime and to bring them to justice."