Inquest result into Ipswich port fork-lift truck mechanic's death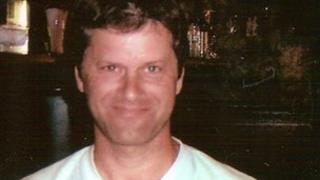 An inquest jury has returned a verdict of accidental death on a mechanic at Ipswich docks who was killed by an exploding tyre on a fork-lift truck.
Gary Deaves, 48, was carrying out maintenance work for Associated British Ports (ABP) in 2010 when the wheel left the axle and hit him in the head.
The coroner's court heard it was not standard procedure to deflate tyres before removing wheels at the time.
Since then, the port said tyres should be deflated on industrial vehicles.
The inquest in Ipswich heard two days of evidence and theories as to how the tyre exploded in the ABP vehicle workshop at Cliff Quay.
Mr Deaves had been removing the bolts from the wheel on the truck.
'Untimely loss'
He died as a result of brain injuries six weeks later.
David Gregory, Health & Safety Executive (HSE) inspector, told the inquest that if the tyres on this sort of multi-piece wheel had been deflated the explosion could not have happened, although it acknowledged it was not a HSE guideline at the time.
Mr Gregory told the court that guidelines had since changed and ABP said it had changed its procedures as well.
Speaking after the inquest, Mr Gregory said he could not go into theories about what caused the explosion in case there was a prosecution.
"HSE will take into account the verdict of the jury and consider what further action it may need to take," he said.
"However, HSE is satisfied that both its own guidance and industry guidance is now better understood in respect of multi-piece wheels."
Alistair MacFarlane, ABP's port manager at Ipswich, said Mr Deaves was a "loyal and highly-valued member of the ABP team" and they were "greatly saddened by his tragic and untimely loss".
"The health and safety of our workforce remains ABP's top priority and although the exact cause of the accident has still not been established, we have taken steps to try and ensure that such an accident cannot happen again," he said.
"We would like to once again express our deepest sympathy to Gary's family."