Repairs on steel wall to protect Ipswich from flooding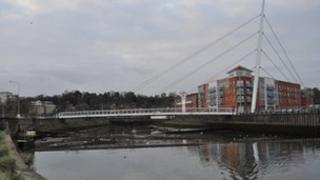 Repair work costing £485,000 is essential to protect the centre of Ipswich from flooding, says the Environment Agency.
The 35-metre sheet-piled wall which protects the bank of the River Gipping at Constantine Weir is being replaced.
The work is being funded by Defra and should be complete by the end of March.
Andrew Usborne, from the Environment Agency, said: "This work may appear small in nature but is improving a weak link in the Ipswich flood defences."
Other repairs are also being carried out as part of the project.
The Environment Agency says the Sir Bobby Robson Bridge and the footpath beside West End Road will remain open during this period, but the informal path along the river bank will close.
Mr Usborne said longer-term protection from flooding would come from a tidal barrier in the New Cut, which is near the Waterfront development which includes University Campus Suffolk.
He said: "We're working hard to organise a design and getting funding for that, so that in the next few years a tidal barrier can be built so the flood defences will be complete for the town of Ipswich."