Abbey Gardens, Bury St Edmunds lottery bid plans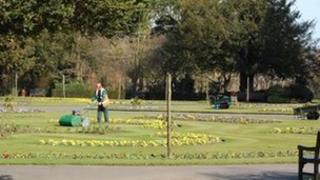 Plans to enhance the Abbey Gardens in Bury St Edmunds are on show as a bid for £1m of lottery money is prepared.
St Edmundsbury Borough Council wants to restore walls, improve footpaths and make the Abbots Bridge and River Lark more accessible to visitors.
The bid is being made to the Heritage Lottery Fund's Parks For People programme.
The council said the gardens attract about one million visitors a year and it spends £350,000 a year on them.
Sara Mildmay-White, councillor for culture and sport, said: "It's one of the best loved attractions in Bury and it's just a fantastic space for all ages to enjoy.
"This will be the future of the Abbey Gardens for the next 20-25 years, so it's important that young people are involved and have a say.
"We were encouraged to put in this bid, but we need to wait for the first results in July before we get over-confident."
The plans also include improving refreshment facilities and information signs among the ruins of the abbey which was established in the 11th Century.
The bid, which will be submitted in February, is a two stage process with the result of the first stage being announced in July, and the the second stage expected in July 2014.
The plans are on show at The Apex, Bury St Edmunds until Saturday, 28 January and on the council website.