Ipswich Hospital doctors write letter over services' future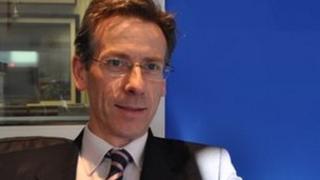 A group of 10 consultants at Ipswich Hospital have issued a public letter claiming it has a "strong future".
The group said it was in response to "commentators predicting the demise of Ipswich Hospital".
They said that, although some specialisms were being moved to other regional centres, Ipswich was growing as a centre and sub-centre in others.
The letter acknowledges "financial challenges" of finding £16m savings from its £228m budget this year.
Clare Marx, consultant orthopaedic surgeon and one of the signatories of the letter, said: "We've been hearing a lot of jungle-drum noise and it has to be seen in the bigger picture and that is inevitably there will be some rationalisation of services.
"We can't expect to have everything here and we have to expect that some things will go to other hospitals around the region."
Fears are 'real'
While some cancer specialisms have been moved to regional centres in Norwich and Cambridge, the group of doctors wanted to highlight that Ipswich remains a regional centre for spinal surgery and a sub-regional centre for radiotherapy, chemotherapy and gynaecological cancer services.
Dr Janet Massey, secretary of the Suffolk division of the British Medical Association, said: "There are still fears that the majority of lab work [blood and other test results] could move to Cambridge, so the feeling that Ipswich Hospital is losing out as a regional centre is real.
"We have a concern that Ipswich may not get foundation status within three years and we could lose reputation in the eyes of the NHS in England."
The hospital consultants said their letter was also an attempt to boost morale among all staff following critical reports from the Care Quality Commission last year.
Mark Bowditch, who chairs the hospital's Medical Staff Committee and is another signatory of the letter, said: "The message to the local community is that the quality of care they get from Ipswich Hospital is high and they should remain proud of their local hospital."