Breckland Free School in Suffolk approved by government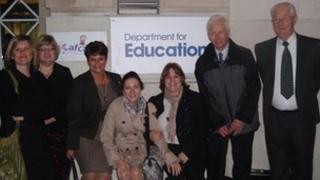 A free school in Suffolk will open for 300 pupils in September after plans were signed off by the government.
Michael Gove, Secretary of State for Education, approved the application for Breckland Free School on Tuesday.
The private, profit-making Swedish company IES UK has won a £21m contract to run the school, to be known as IES Breckland, for 10 years.
Supporters said the school in Brandon would "raise educational aspirations and academic attainment".
Gordon Warnes, chairman of the SABRES Educational Trust which campaigned for the free school, said IES UK would build on the legacy of Breckland Middle School which will close in July.
"We believe they (IES) will deliver our vision of an all-inclusive community school with enthusiasm, dynamism and passion for the task in hand," he said.
'High-quality education'
IES is the UK arm of a Swedish company which runs a number of free schools in Sweden.
Free schools cannot be run for profit - but their trusts can buy in services from private firms.
Sherry Zand, principal designate of the new school, told parents it would deliver high-quality education for the children of Brandon and its surrounding area.
"We want IES Breckland to be a school which supports each child to achieve better than they first thought possible," she said.
Free schools are funded from the public education budget - but the schools are run independently.
Chris Keates, general secretary of the NASUWT, the largest teachers' union, said: "Was there ever any doubt that a Secretary of State who has publicly declared himself as not opposed to the idea of schools making a profit would not approve the setting up of this school?
"State education is now well and truly up for sale to the highest bidder."
The Stour Valley Community School, Suffolk's first free school, opened in Clare in September.