Bury St Edmunds jeweller's death: man charged with murder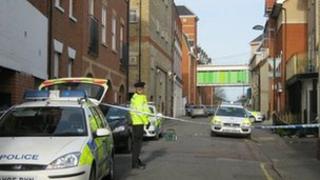 A man has been charged with the murder of a jeweller who was stabbed at his flat in Suffolk.
The body of Peter Avis, 66, was found on 13 January above Collis and Son in Abbeygate Street.
Kamil Kita, 20, of no fixed address, was arrested on Monday and is due before magistrates in Ipswich on Thursday.
An 18-year-old woman arrested on suspicion of assisting an offender been granted police bail until 21 March.
Officers said they also want to speak to Pyotr Melaniuk, who is Polish, 5ft 6in (1.68m), and of slim to medium build with short hair.
Burglary charges
The 28-year-old is also thought to go by the names Irek Marciewicz, Pyotr Kelaniuil, Kamil Wislak and Ireneusz Melaniuk, a spokesman said.
The two middle fingers of his right hand above the knuckles are missing, as is the thumb on the same hand. He also has tattoos on his hands and a spider tattoo on his right arm.
Two men have been charged with burglary and five other people have been arrested in connection with the case.
Pawel Borowiecki, 30, from Roslyn Road, London, and Pawel Pacian, 34, of Lake Avenue, Bury St Edmunds, appeared before magistrates in Bury St Edmunds last week, charged with conspiracy to commit burglary.
They were remanded in custody to appear at Ipswich Crown Court at a later date.
Three people - an 18-year-old man arrested on suspicion of murder and conspiracy to commit burglary, and a 26-year-old man and a 27-year-old woman, arrested on suspicion of conspiracy to commit burglary - have been bailed until 20 March.
A 34-year-old man and a 30-year-old man arrested on suspicion of murder are due to return to Ipswich Police police station on 27 and 20 March respectively.