Swimming pool charity to take over Beccles Public Hall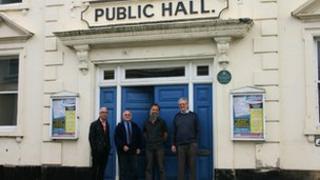 Volunteers who saved Beccles' outdoor swimming pool from closure are taking over the town's Public Hall.
Waveney District Council's cabinet has voted to transfer ownership of the 200-year old building, which hosts entertainment and community events.
Beccles Lido Limited said it hoped to complete the transfer by March.
The group said it would "deliver a prime, quality, accessible and well maintained leisure service in Beccles for the benefit of all".
Councillor Stephen Ardley, Conservative, said: "The lido group's robust financial planning and proven ability to deliver grant funding places the long-term future of the hall in very safe hands."
The group was founded in 2009 after the council decided to close the town's outdoor swimming pool because it could not afford maintenance costs.
The pool reopened last year.