Hospital escape prisoner Andrew Farndon arrested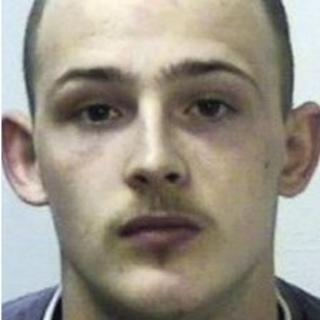 A prisoner who escaped when two guards taking him to hospital were threatened at gunpoint has been arrested.
Andrew Farndon, 26, left custody when the prison officers were threatened as he arrived at West Suffolk Hospital, in Bury St Edmunds, on Wednesday evening.
Police have confirmed he was recaptured in New Cumnock, in Ayrshire, Scotland, on Friday.
Four other people have been arrested for allegedly attempting to pervert the ends of justice.
The three men, aged 16, 33 and 43, and a woman, aged 44, are expected to appear at Ayr Sheriff Court on Monday.
Farndon was being taken with a knife wound to the hospital's accident and emergency department when he escaped. He travelled from HMP Highpoint in a taxi, accompanied by the two guards.
The 26-year-old was rated a Category C prisoner, a security classification which meant he was considered unlikely to make a determined escape attempt.
A Prison Service spokeswoman said "vetted taxi companies" were used "routinely" to transport prisoners on visits including non-emergency medical appointments.