Pakefield High School set for £7.5m from council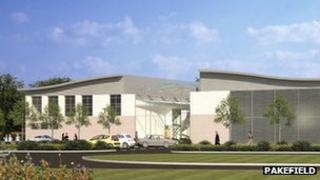 A project to build a new high school in Suffolk could get £7.5m after councillors approved the funding.
Suffolk County Council's cabinet has voted to invest the cash to complete the first phase of the new Pakefield High School in Lowestoft.
Money for the scheme was due to come from a central government grant, which has since been cancelled, and will now be funded by the local authority.
The final decision over the grant will be made by full council on 9 February.
The new school is being built on the site of the former Pakefield Middle School, as part of a move to two-tier education in the Lowestoft area.
The first pupils are due to move into the new building in the spring, which should accommodate 900 students by 2014.
Graham Newman, the county council's portfolio holder for children, schools and young people's services, welcomed the cabinet's decision on Tuesday.
Lower cost
"The new Pakefield High School is a key part of our planning for the Lowestoft area," he said.
"It represents the culmination of the county council's investment in this part of Suffolk to reorganise the education provision to the nationally recognised two-tier system."
Work to complete the first phase of the school is expected to cost £12m.
The money was due to come from the government's Building Schools for the Future programme, which has since been scrapped.
The council will now use its Children and Young People's capital programme to fund the project.
Planning is now set to begin on the next phases of the building, but at a lower cost than the original design.